manufacturer of industrial gas turbines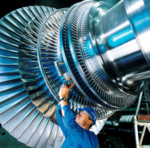 Power generation systems require stringent vibration performance testing across all load conditions to achieve high reliability and maximize operational life of each turbine. The IntraStage BlackBelt Test Data Management and Analytics platform delivers an extensible "Single Source of Truth" with 100's of Billions billions of parametric measurements used not only for final product qualification, but also for data driven insights into product development .
Need to have a manufacturing analytics and intelligence system that is adaptable, customizable, and well documented for internal development
Need to track and control product performance along entire manufacturing line
Need to store and analyze very large datasets of greater than .5 petabyte with need to grow further
Deployment of BlackBelt onsite solution
Adaptable off the shelf solution capable of delivering to our highly specific requirements
Development of custom process and performance reporting
Adoption of stock reporting and analytics
Flexibility to customize to fit needs
1000's of engineering hours eliminated in aggregating disparate data.
Extensibility and Scalability to meet ever growing data.
Enabling continuous improvement with a single source of truth for our product performance.
See More Related Use Cases
Use Your Data or Our Sample Datasets. No commitment. No strings attached.