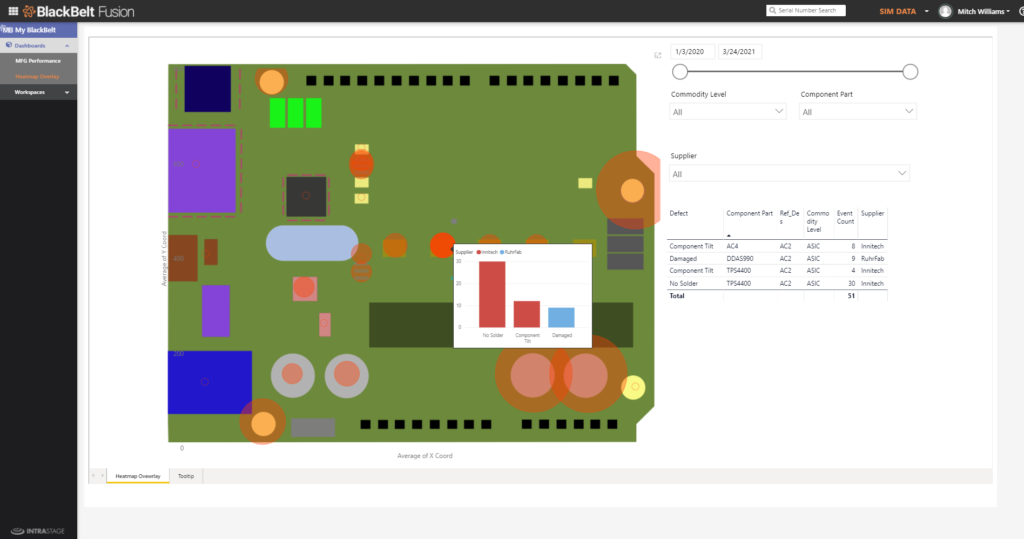 Can You Use Historical Data to Drive Better New Product Design?
65 percent of electronics manufacturers are facing global shortages, especially for integrated circuits. Even older IC designs used in commercial applications like autos are being severely impacted by this shortage. OEMs need to be able to rapidly iterate on their New Product Introduction (NPI) process in order to verify that new design iterations that leverage the components that are available work as expected. By using historical performance data on existing models and components, an electronics OEM can simulate how a new product design and requirements would perform against historical data.
A prime requirement of having this kind of efficient NPI is having relevant data fused together into a single source of truth. When fusing this kind of critical data together, electronics manufacturers will need to integrate data from manufacturing, field, and rework cycles. 
Insight into these failure and rework metrics from known components and suppliers can be applied to the new model design, giving NPI engineers visibility into how new designs using these components will perform both at the parametric level. With this insight, engineers can estimate yield, future production issues, and optimize the design of the new product.
Challenge
Normalizing of product lifecycle data as inputs to Design and NPI 

The inherent complexity of test and repair data

Normalizing and aggregating defects

Linking PLM/CAD/MES data together

Integrating field service or MRO repair data with other performance data sets
Solution
Closed- loop DFM (Design for Manufacture) system

Real-time predictive yield simulation analytic

Component attributes included in the data model

Defect attributes included in the data model

Characterization and metrics on supplier, cost, availability

Leveraging Enterprise PPM modeling w/BOM

Closed-loop DFR (Design for Reliability) data model at:

Component level

Module level

System level
Benefits
Accelerated NPI, MFG, revisions

Optimized component selection

Optimized reliability

Improved service margin/profitability

Increased Engineering manpower efficiency

Reduced scrap

Increased RTY and throughput
Get the Demo. Use our sample data, or use your data for real insights.